The Big Bounce 2020 - watch
A brand new free science festival for the East End of Glasgow! From 30 October to 1 November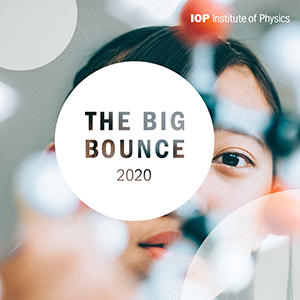 Whether you're into science or not, we think you'll enjoy checking out dancing atoms, spooky forces and artificial suns, all without leaving the house!
This year we're streaming online, live from the Barrowland Ballroom and beyond on the weekend of 30 October. We're bringing you mind-blowing shows, talks, comedy and workshops for wee ones and big yins alike!
Across three days, we'll explore the physics that drives our world, and the technology that harnesses it to create wonders. For this first festival, we're focusing on the amazing ways that science can help us tackle the climate crisis and find a brighter future.
Everyone is welcome! Open the individual events below to watch archived streams.
Read more on Facebook.
Festival timetable
The Big Bounce is the new name for the Festival of Physics, previously held annually at Dynamic Earth in Edinburgh.
For enquiries, please email festivalofphysics@iop.org.